Stills For Sale

Please note; Supply orders are shipping in 1-3 business days. T-500 stills, Grainfathers and Mr Distillers are in stock and ship within 1-4 business days. All Mile Hi stills and towers are shipping within 2-4 weeks. Mile Hi Flute stills and column only orders are shipping within 6-8 weeks.  These are estimated shipping times. We are still short-staffed and have had supply chain issues for the past year which is causing delays in getting raw materials, parts, milk cans, etc. The best way to communicate is by email at [email protected] or through our contact page on our website. Thank you for supporting our small business.
Stills for sale
Mile Hi Distilling, Home of the Milk Can Moonshine Stills, Handmade one at a time In Colorado. Stills For Sale.
Great, you are looking at buying a moonshine distiller, but can't decide which one. Well, first of all, I want to thank you for looking on MileHiDistilling.com. We have the largest selection of stills and supplies than any other company. And I can guarantee you the highest quality at the lowest prices. We are the oldest and most experienced still manufacturer in the United States. I've worked hard for over 15 years finding the best-suited supplies for this fun hobby.
If you can't decide on which type of moonshine distiller, I would suggest a dual purpose or a 2-in-1 tower that works as a pot and reflux.
Pot Stills
A pot still simply condenses the alcohol vapors that come off the boiling mash. This will result in an alcohol at about 40-60% purity, with plenty of flavor in it. If this distillate were put through the pot distiller again, it would increase in purity to around 70-85% purity, and lose a bit of its flavor.
Reflux Stills
A reflux still does multiple distillations in one single run, by having packing in the tower allowing vapor to condense and drop back down through the packing. This "reflux" of liquid helps clean the rising vapor and increase the % purity. The taller the packed column, and the more reflux liquid, the purer the product will be. The advantage of doing this is that it will result in a pure spirit. Distilleries use reflux stills to produce Vodka. They run 95% purity then proof down with water and usually filter with activated carbon.
Please note; Supply orders are shipping in 1-2 business days and stainless milk can still orders are shipping in estimated 6-8 weeks. Mile Hi Flute orders are shipping within 8-10 weeks. These are estimated shipping times. 
---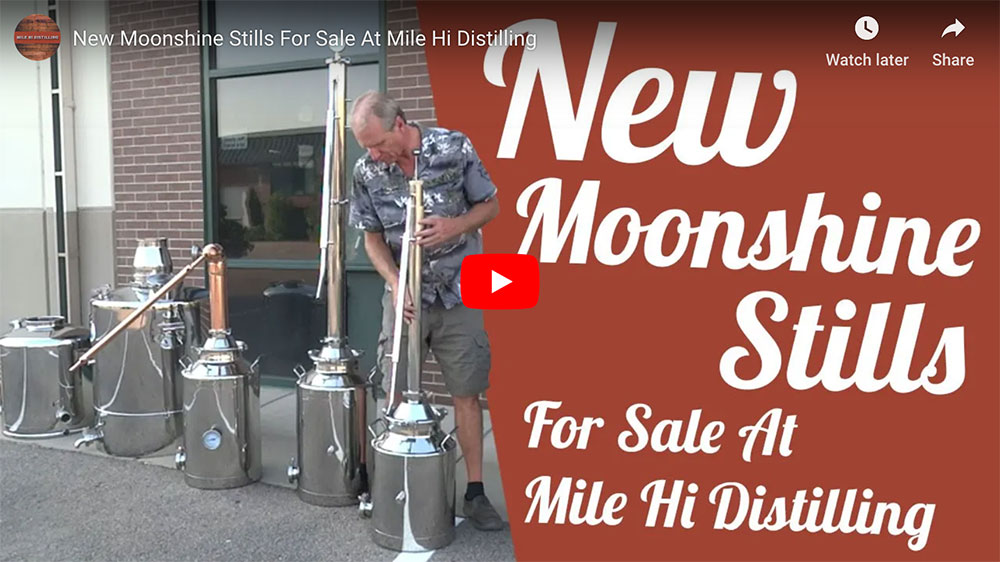 ---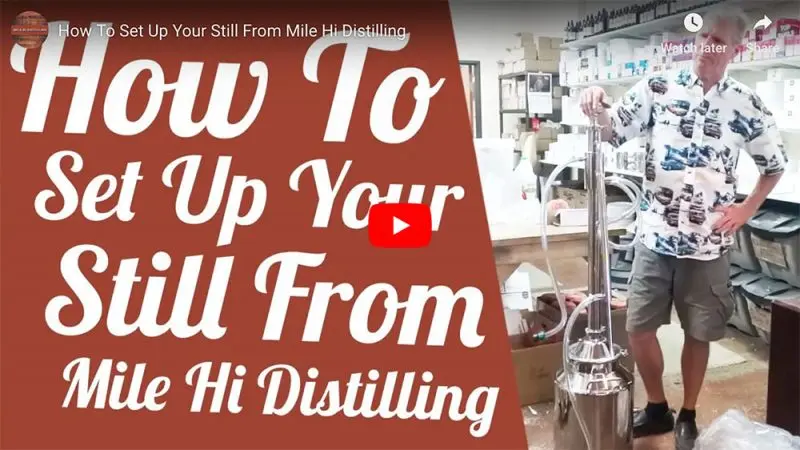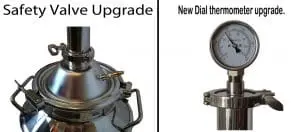 Our milk cans are welded not seamed. Many other companies are selling seamed cans that are very similar to ours. With the metal expanding and contracting with heat the seams could start to leak. That's why we only sell welded cans.
WARNING: Distilling alcohol at home, also known as moonshine making is illegal in many countries. But you can use these distillers for many other uses. Like distilling water, vinegar's, essential oils, and even engine fuel. It is the responsibility of the user to abide by the laws of your country. Mile Hi Distilling strongly discourages any unlawful use and is not responsible for any damage or injury caused by misuse or unlawful use.
Link to the TTB website for owning a still for home distilling put don't forget you can get a free permit to make alcohol fuel.