Welcome to Mile Hi Distilling
Moonshine Still Supplies and High-Quality Distilling Equipment
Browse Moonshine Distilling Product Categories
Moonshine Still Kits and Distilling Equipment For Sale
Mile Hi Distilling moonshine stills are copper or stainless steel built pot stills that are used to make traditional moonshine or other spirits using sugar or assorted grains as a base. A Mile Hi moonshine still can also be used to make every other kind of distilled alcohol or 'spirits', such as brandy, bourbon, rye whiskey, gin, rum, vodka. Additionally, you can also use a moonshine still to produce distilled water, fuel, and alcohol for cleaning and disinfecting purposes. Other kinds of stills that we carry at MileHiDistilling.com include alembic stills, column stills, and reflux stills.
If you're looking for a moonshine still, whiskey still, or any other type of alcohol still, look no further. Since 2002, Mile Hi Distilling has had the highest quality stills for sale on the web. We carry everything from commercial volume distilling equipment to table-top home stills. It doesn't stop at distillation equipment either, we have the largest selection of distilling supplies in the country. From carbon filters to mash ingredients and everything in between, you'll find whatever you need in our shop. We also have a growing library of articles with everything from a distilling moonshine guide to how to make vodka.
We have over 600 products for home distilling and supplies for micro-distilleries. From stills to turbo yeast, we have the largest selection in the world. Please look around and have fun. You can also keep updated on our newest moonshine still video walkthroughs. If you have any questions give us a call 303-987-3955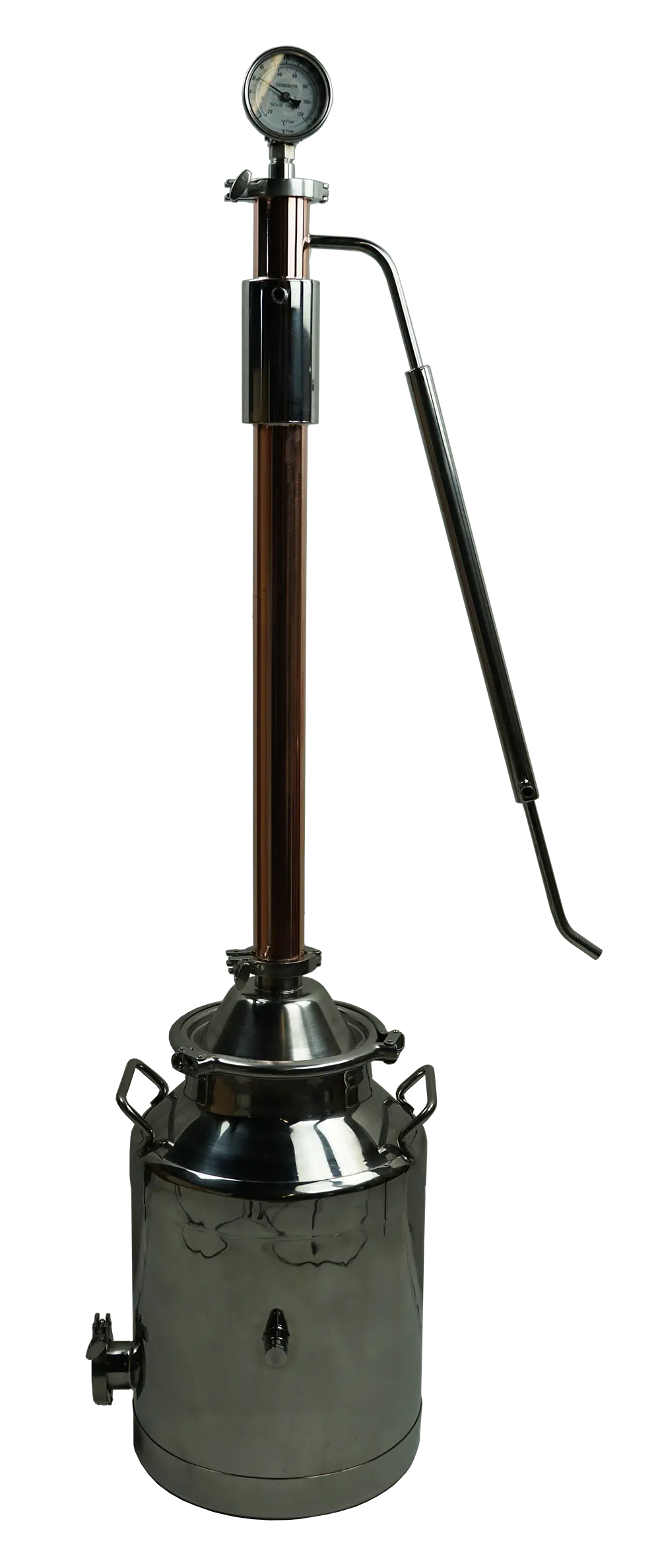 Take Advantage of Huge Savings On All Products
Sitewide During Our 2023 March Month Sale!
Use Coupon Code: [

mhdnew20

]at Checkout to
Receive 10% Off Sitewide (Even On Sale Products!)
How to Choose The Right Moonshine Still For You
The right moonshine still for the job depends on several variables. The volume of product you want to produce, your budget, and what you're making are just a few. For example, a pot still is going to be much less fuss to use if your product is a flavored spirit like whiskey. A reflux still, on the other hand, is going to be great for a high-proof product like vodka. If you're looking for a convenient brewing and mashing system, check out the Grainfather Brewing System. Getting the right tool for the job can solve a lot of headaches.
Moonshine Pot Stills
Used by the original Moonshiners in the Appalachian Hills to make bootleg moonshine, pot stills are relatively easy stills to setup and operate.  They consist of a boiler and a condenser.  Pot Stills are perfect if you're looking to make spirits such as moonshine, whiskey or brandy with more flavor and a lower 60-80% proof.
Moonshine Reflux Stills
Reflux Stills are used to create higher proof, odorless and flavorless spirits.  The spirit is made more pure by passing through the fractioning column, where it will meet the rising vapor, causing it to condense the during distillation.  The taller the column the more neutral the spirit will be.  Reflux stills are ideal for distillers who want to create rum, vodka or higher proof whiskeys.
Distillery Equipment
If you run a large operation, finding a provider for quality supplies can be tough. Luckily, Mile Hi Distilling can act as your go-to source for all of the supplies and equipment you need. We keep premium mash ingredients, yeast, oak barrels, instrument, cleaning supplies, and a large selection of stills in stock at all times. We understand the challenges of running a large operation and are always happy to chat if you have any special requests. Don't be fooled by Chinese resellers, we are one of the few moonshine and whiskey still companies out there.
Check Out Our Complete Moonshine Still Kits
At Mile Hi Distilling, our team has years of experience in manufacturing and selling top-quality moonshine still kits. We provide a great selection of distilling supplies and equipment items that enable you to easily build or modify your moonshine still kit. No matter what volume or type of results you want to achieve, we can provide you with a moonshine still that enables you to achieve your goals.
The Highest Quality Moonshine Stills
The Highest Quality Moonshine Stills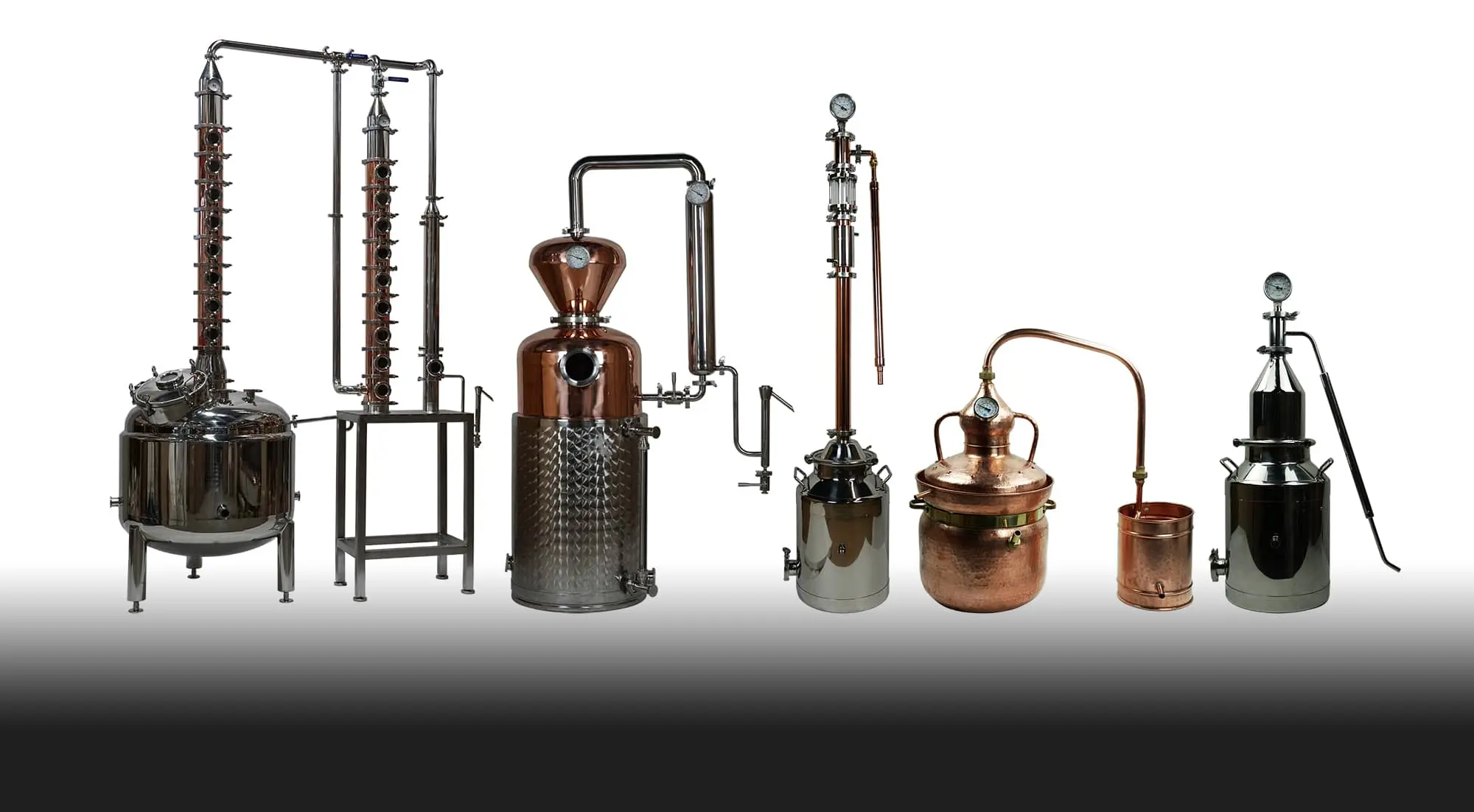 What Mile Hi Distilling Customers Are Saying
Established Provider of High-Grade Moonshine Still Kits
A growing number of people are investing in a moonshine still kit in order to enjoy the centuries-old craft of producing their own distilled beverages or even fuel for their truck or car. Although it is illegal to produce and sell moonshine (homemade whiskey or other spirits), it's not illegal to own moonshine making equipment – in many areas users can apply for a permit to produce ethanol – a useful fuel which has numerous applications. We carry everything from the traditional copper still, to stainless steel units, to the state-of-the-art Grainfather Brewing System. If you are in the need of a high-quality moonshine kit, you've come to the right place. We also carry top of the line supplies like grains and carbon filters.
Copper and Stainless Steel Alcohol Stills
Here at Mile Hi, we carry both copper stills and stainless steel moonshine stills. In the right hands, both of these materials are excellent candidates for your operation. Copper stills tend to be more expensive, but bring some decent benefits. Copper is an excellent conductor of heat, it also removes sulfur compounds from the wash. Stainless steel, however, is extremely durable. While it doesn't remove sulfur or conduct heat as well, it is much easier to clean and can bring down the cost of a large operation.
Whiskey Still Kits
Looking to get up and running in one fell swoop? Need a great gift for the DIYer in your life? Look no further, Mile Hi carries some of the best moonshine kits money can buy. These kits are perfect to tinker with and get hands-on with the ancient art of distilling. These kits can take you from beginner to a seasoned distiller, all in one single purchase. If the kits on our site are not what you're looking for, contact us and we can help you assemble your own custom kit. Remember, always operate within the guidelines of state and federal law.
As always, don't hesitate to contact us if you have any questions. We hope to become your go-to for moonshine stills and distilling equipment.
How To Make Bitters Learn Step-By-Step How To Make Your Own Homemade Cocktail Bitters Cocktail bitters are a great way to add depth to your drinks, and